I get asked a lot about what dewormers I use on my goats, and if there isn't a homemade deworming recipe. And, ta da! I actually do use a homemade dewormer that I
love
, so I thought I would share the recipe here for y'all. (and note: this recipe is not of my own making; the original writer of the recipe is Debbie Osborne.)
Herbal Goat Dewormer:
1 cup dry mustard seed powder.
Dry mustard seed powder.
2 cups cut Thyme leaf.
Thyme leaf
2 cups wormwood.*
Wormwood
1 cup Black Walnut hull.*
Black Walnut hull
2 cups chopped Sage leaf.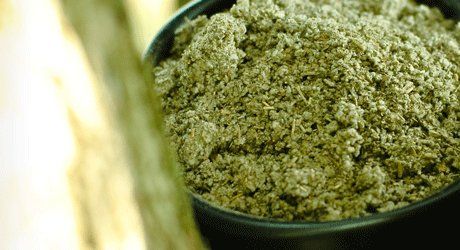 Chopped Sage leaf
1 cup Minced Garlic.*
Minced Garlic
2 cups Rosemary leaf.
Rosemary leaf
1/2 cup chopped cloves.
Cloves
1 cup Psyllium Seed powder.
Psyllium Seed powder
2 cups Diatomaceous Earth (D.E.)*
Diatomaceous Earth
Directions:
Mix all ingredients together and store in a glass jar. Keep in a cool, dark place.
You'll notice that some of the herbs have been marked with an asterisk (*), these are the
most
crucial ingredients, and if you're in a pinch you can make a cheater version of this dewormer with only the herbs that have been marked.
Dosages:
Sprinkle the mixture over their feed 2x's daily for seven (7) days straight.
A mature, standard sized goat needs 1 Tablespoon 2x's a day (so 2 TBSP per day).
Dwarf breeds need 1/2 Tablespoon 2x's a day (so 1 TBSP per day).
Standard sized kids receive the same amount as Dwarf breeds, and Dwarf kids should get roughly 1/3 to 1/2 the adult Dwarf amount.
If you find that your animals absolutely refuse to eat the mixture try mixing it with some brown sugar; that usually helps matters!
What's really nice is that this recipe can also be used for other animals: sheep, cattle, horses, camelids... But PLEASE NOTE: if you use this recipe for horses, you MUST take the Black Walnut powder out, as horses are sensitive to it.
You'll also notice that the ingredients are all highlighted. Clicking the links will take you directly to one of my favorite websites that I order bulk herbs from. :)
Do you have a favorite herbal recipe that you use on your livestock?
*All photos are courtesy of Bulk Herb Store.*