It has finally been deemed that Peaches does not have scurs. They are honest-to-goodness horns.
Upon realizing that I now had a horned cow on my hands, I had two options:
1. I could put heavy rubber bands around her horns which would cause them to die, and fall off on their own (just like when banding male livestock), and then I would have a lovely dehorned cow.
Or 2. Leave the horns on.
Oh boy.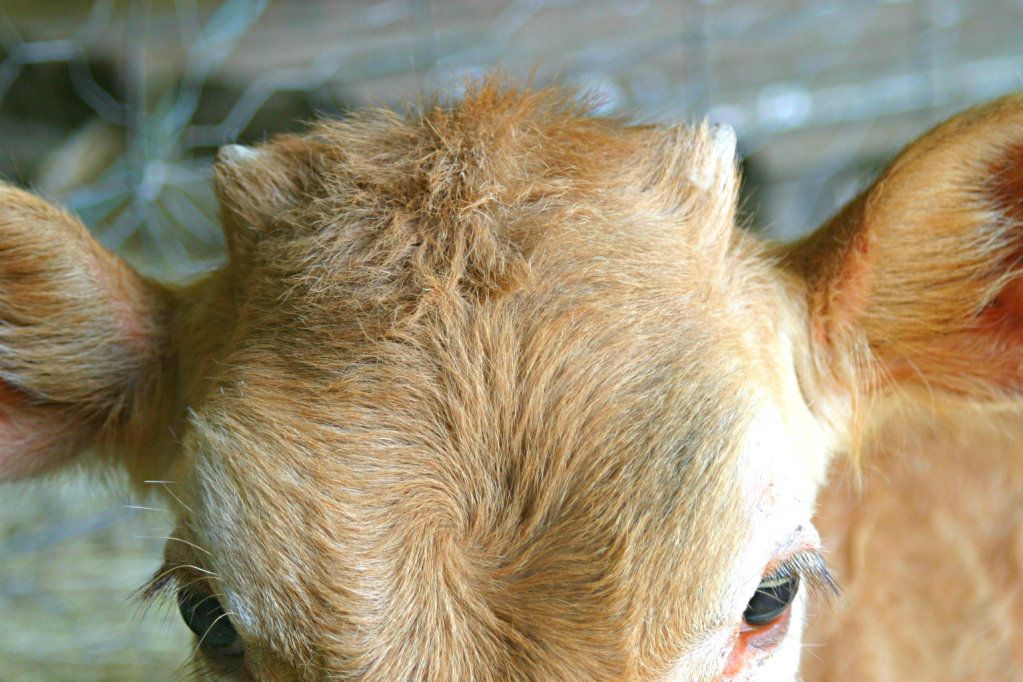 Well, I just about drove myself crazy trying to decide what to do. I thought about it, I asked advice from fellow cow owners. I watched Peaches...
And then it dawned on me. Peaches really does look nice with her little baby horns, and I think she will look quite stunning if her crowning glory was left in place.
Folks, I am doing what I always said I would never do (I seem to be doing that a lot lately...). I am keeping a horned bovine. Yoikes!
But worry not, dear friends, for this is a carefully thought out plan of mine. Not only do I have to make sure that she doesn't injure any goats or humans, but I have to do something so that she doesn't wreak havoc with her beautiful horns.
Thus enters my game plan:
Peaches' horns will grow however they wish for the next 2 years, and then they will undergo the lost art of "horn training", which will cause the horns to curve inwards in a lovely wreath, rather than the natural "hook" that most horns are. Below is a Jersey cow that has had her horns trained, and that is how I want Peaches' horns to look. :)
Photo courtesy of Hope Refuge Farm
Secondly, she will have knobs attached to her horns.
Yet another lost art, these knobs are made of brass and are often quite ornamental in looks. You file down the horn (some folks say to just lop an inch off the tip), and glue these knobs on which give the horn a blunt tip in which damage is harder to come by.
Peaches will most likely get her knobs before the training starts. I'm going to guess that she'll earn her "bling" by 18 months of age. I must admit I'm rather excited to pick out her pretty horn jewelry! ;)
Photo Courtesy of Tranquil Farms
So friends, Peaches will keeping her crowning glory, and I am happy with my choice. :)
Does any one else here have horned cows? Do you like having crowned bovines, or prefer dehorned ones?